We are a family of Eagles football fans in my house. I grew up in a home of Eagles football fans (though my own conversion is most pronounced following the occasion of my marriage), my husband has been an avid Eagles fan since likely the day he was born, and my 18 month old daughter is an Eagles fan by birthright.
We couldn't be more thrilled with the Eagles' first Super Bowl victory last night! We could hardly calm ourselves to sleep after the event and have been watching ongoing news coverage all morning since. We are proud supporters of our dogs!
I sat thinking about what kind of blog post was worthy of expressing our excitement after such a season and victory this morning. As excited as I am about the Super Bowl trophy now at last held by the hungry fans of Philadelphia, I felt compelled to express my support of an even bigger victory that I saw from the Philadelphia team of men this year. It will probably never reach their eyes (or even the eyes of many), but while the world celebrates the outstanding plays of the game and the stunning Lombardi trophy, I celebrate this morning with a brief letter to a few integral men of the Eagles team:
…..
Dear Carson Wentz, Nick Foles, Zach Ertz, and all of the other Eagles players openly professing to love Jesus Christ,
Thank you.
From a mother of one little girl and another one on the way, thank you for modeling what it means to use your God-given gifts to glorify Him. Thank you for standing for your faith in a highly publicized culture and clearly proclaiming the gospel of Jesus Christ. Thank you for making a piece of the NFL something that I can be proud for my daughters to observe. Thank you for remembering what is more important than your team, your fans, and even a Super Bowl trophy. Thank you for the blood, sweat, and tears that you put into growing your faith and shining its light through the television screens of millions of Americans across the nation.
In a tough sports town, baptisms and Bible studies fuel many of the Eagles' stars
Carson, thank you for showing my daughters what the leadership of a godly man looks like throughout the course of this 2017 Eagles season. You weren't the most experienced player on the team. You weren't the loudest or most commanding. You weren't even the most proven member. But you quietly and boldly led your teammates by your humble example, god-fearing friendship, and unwavering faith. You sought first to care for the souls of your teammates and, in doing so, gained their trust and loyal support.
You are a man of un-matched talent with a huge career ahead of you. Yet despite your long-term career prospects and the opportunity to boast of your personal success, you sought to bring your team to their knees with you. You modeled to them, and to the nation, what it means to seek first the kingdom of God.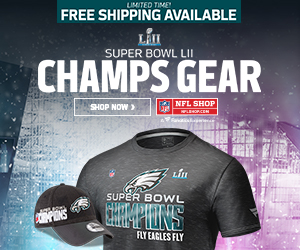 It probably wasn't part of your hopes or plans for the season, but when your injury took you from the game God's glory shined even brighter through you. It's easy to praise God when you are living a dream with unlimited horizons before you, but you showed the nation (and my daughters) what it means to praise Him when His role for you is to sit on the bench. You showed the world what it looks like to trust God's purposes and joyfully embrace your role – whether it is as a background player to support those on center stage or as a member of center stage yourself. You held your worth in something greater than your title as an NFL starting quarterback, and joyfully supported your brother in Christ as he took up the reigns to embrace the title in your place.
Thank you for entering a fame saturated culture with the intent of proclaiming a fame not your own. Thank you for holding onto Christ and looking for opportunity to bring others alongside you.
Nick Foles Religion: The Eagles' QB Wants to Be Pastor
Nick, thank you for esteeming the glory of God in a culture built around very adverse priorities. Even a couple of months ago I doubt you expected to be standing on a national platform with millions of viewers and fans eagerly attentive to your every word and deed. Yet you stepped into your role with a God-glorifying humility and message that only magnified the flame of the gospel as it had been carried by Carson before you.
You stepped into your role with a job to do, and you did it well – but you didn't just stop with the game. You took the opportunity God gave as your fame and platform spread to pronounce His forgiveness and grace to an eagerly watching world. You picked up the ball with humility and saw God's hand in your new position. You sought to honor Him and fulfill His purposes for your unexpected fame.
You made your own daughter proud Nick, and not because you are the MVP of Super Bowl LII. You showed her (and my own daughters) what it means to follow Jesus as He leads you on the unpredictable journey of life. You showed her the example of a man seeking to love his Savior boldly. You showed her you are willing to stand for truth no matter what the culture around you professes.
Well done, daddy. Thank you for showing the watching children of the nation where your true victory is.
Philadelphia Eagles players talk about their faith in Christ at Super Bowl LII
Zach, thank you for boldly stepping forward to profess your growing faith to a world that wasn't asking to hear it. Thank you for humbly seeking to grow in your love for Jesus and using your team's ongoing success to proclaim the victory of Christ through His death for your sins.
Your platform wasn't as high as a quarterback's, your story perhaps not as dramatic to tell, but you didn't let that stop you from seeking to glorify God as he brought more and more attention to your team. You humbly expressed your faith to the nation and acknowledged your own growth through the season. That is the message of the gospel itself – the power of Jesus Christ to transform weak hearts into those that boldly live for a higher and unparalleled purpose.
Thank you for looking for ways to glorify God as your team marched toward Super Bowl victory this season. Thank you for showing my daughters, and children all over the world, how God can grow and move in lives. Thank you for professing Jesus where it doesn't yield popularity points or win you the esteem of many colleagues and friends.
Carson, Nick, Zach, Pederson, and all of the other Eagles players and staff who seek to love Jesus Christ,
Thank you for shining a light of faith in the NFL. Thank you for modeling examples that I am proud to have my daughters esteem as they grow up. Even more than all of your hard work to bring home the first Super Bowl Championship to Philadelphia, thank you for persevering in your love for Christ and proclaiming His gospel to the watching world.
There are many sports and entertainment celebrities who profess to love Jesus Christ, but you have given the world an example of what it means to both profess and LIVE to love Jesus Christ. You have shown us the fruit of your faith in actions. I know you're not perfect – you are just humble sinners saved by grace – but I am proud to point my daughters to your example of faith.
If you never win a Super Bowl again, I will still stand by your careers. I will still teach my daughters to cheer for their brothers in Christ. I will still whole-heartedly be a loyal fan of the men who opened themselves to be used by God in a dark and fame-saturated culture. And I will join you each as teammates some day in an even bigger and more magnificent celebration as we meet our Savior face to face and proclaim His ultimate and eternal victory.
Sincerely and with gratitude,
Your sister in Christ
Read related posts: