Are you trying to increase blog traffic? It seems crazy to say that I've grown my blog traffic by over 1,000% in 6 months. When I sat down to compile this post I knew I had been seeing a notable increase in my blog traffic, but I was shocked to find that it was indeed an increase of over 1,000%! I pulled the numbers from Google Analytics and did the math!
I started my blog last June with just an "About Me" post and an overflow of creative ambition. I'm one that prefers to dive head first into my passions and projects and figure them out as I go. Therefore, I hadn't done much research into what it takes to market or increase blog traffic before I decided to hit the ground running. I'm kicking myself that I didn't take a screenshot of my page views in the WordPress app for my first month of blogging, because I'm guessing they were less than 10 per day! Unfortunately I didn't start tracking my site with Google Analytics until October, so there is no way for me to go back and mine that embarrassing starting data at this point (that I'm aware of).
(This post contains affiliate links. Read my full disclosure here.)
While I calculated the total percentage of my growth over a 6 month period of time, my biggest increase in blog traffic was actually from last month to this month – and this month is only halfway over! Here's a look at my monthly page views according to Google Analytics:
Below is another view from Google Analytics displaying my daily page views over the same period of time. As you can see there is some notable daily variance, but the overall trend has still been of significant increase:
So how did I increase blog traffic to my site by over 1,000%?
There are several resources that I tapped and strategies that I began to implement to increase my traffic.
1. I made an investment into Carly Campbell's spectacular ebook, Pinteresting Strategies.
Investing in this ebook is one of the only financial investments I have made into my blog. With a very tight budget (that's why I'm trying to make money blogging!) I do not have the funds to pour into a lot of upfront resources to build my site. However, I do not regret this purchase! Carly's book focuses on a manual pinning method to increase your page views from Pinterest. I do not follow all of her steps as I will hit on when I discuss Tailwind below. However, it's her book that opened me up to using Google Analytics in conjunction with Pinterest, to re-pinning my own content on Pinterest, and so many more Pinterest details that have really impacted my ability to pull traffic from the social network. I believe I bought her book back in October, but didn't begin pairing her strategies with some of my own until the last couple of months.
Pinterest is BY FAR my number one source of blog traffic right now. If you haven't been using Pinterest to actively increase blog traffic, you are missing out on a great traffic driving network! If you haven't already read it I HIGHLY recommend Carly's ebook. It's an investment you will not regret making! You can purchase her ebook, Pinteresting Strategies, here.
2. I began making use of Tailwind
When I first started blogging I thought Tailwind was just another affiliate scam for other bloggers to make money and nothing that would ever be of use to me. All it does is pin for you when you could login and do it yourself, right? Wrong! I signed up for a free month of Tailwind just to give it a try after reading posts about its features from several other bloggers, and I do not regret giving it a try! Tailwind has several features that have been game changers for me in my interactions with Pinterest and efforts to increase blog traffic:

1. Tailwind allows me to see analytics on each of my Pinterest boards.
One of the main reasons that I decided to give Tailwind a try was that I couldn't find any other way to determine how each of my Pinterest boards was performing. On Tailwind's dashboard, under "Track Your Brand Page," you can access "Board Insights." This is a huge resource for me! I was part of a large sum of group boards prior to using Tailwind. When I started my free trial month I used the "Board Insights" to evaluate the performance of each of my boards – both group and my own. I deleted several of my own boards and left MANY of my group boards that were performing far below my top 15-20 boards. I can't draw a direct statistical correlation, but I believe that deleting these poor performing boards really helped my rankings in Pinterest!
2. Tailwind allows me to pin during peek traffic times.
Before utilizing Tailwind I was pinning approximately the same content. However, as a mom with a young toddler most of my pinning was occurring during afternoon nap time. I could see from my Google Analytics that the peak traffic times for my site were generally later at night. Since I have limited time to sit and manually pin during peak hours for my blog, I instead load my pins into Tailwind during nap time and let it pin them for me in the later evening hours!
Note: this is where my strategy differs from what Carly outlines in her ebook. I've applied many of her principles to what I pin and where I source my pins from, but instead of manually pinning them I load them into Tailwind.
3. Tailwind offer tribes to re-pin my content.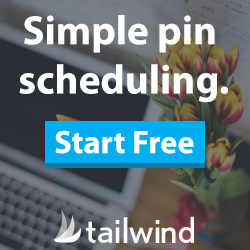 I wasn't very familiar with how Tailwind tribes worked before giving the platform a try, but they function very similar to group boards on Pinterest. They allow you to post your pins for other to re-post and to re-post other's pins. The very big differences to me between tribes and group boards is that the tribes offer more accountability for each user and they are much easier to join! On group boards there is no easy way to determine if users are truly re-pinning as much content as they are adding of their own. On Tailwind there is a clear dashboard for tribe admins to see how many pins users are uploading of their own vs. how many of other's they are sharing. This makes it much easier to keep the tribes active and successful. I also found tribes to be much easier to join! You can search for tribes through the "Find A Tribe" feature under "Tribes" on the menu. Some of them you can join immediately without any application and some require the approval of the tribe admin before you can join. With both types of tribes I found the application and acceptance to them to be a lot easier than searching for open group boards and messaging individual admins, etc.
I started trying out Tailwind with a free trial, but after using it for a full month I found that it was worth the $15/month investment for me to continue using the platform. So though I am very conscious of purchasing resources, this is one that I also find well worth the investment to increase blog traffic!
If you haven't given Tailwind a try, you can apply here to explore it for yourself.
3. I Updated Old Content.
You've probably heard this suggestion from other bloggers. I know I did and disregarded it for a while. However, I went back and looked through some of my old blog posts with horror!
Because I leap head first into projects like my blog and learn as I go with them, my first posts were a frightening site to behold now that I've increased my blogging how-to. For several of the posts that had potential to do well but weren't, I went through their content and updated their SEO. I also edited their SEO title and Meta descriptions using the Yoast SEO plugin for WordPress. I rebranded my images on several of them (you can read my tips on branding your blog here) which allowed me to then pin and circulate new images on Pinterest to try to re-gain traction on the old content that had been sitting relatively inactive on my site. I also added second "pinnable" images to a few of the posts to allow me double the ability to circulate them on Pinterest.
If you haven't looked back at some of your very old posts in some time, there is a good possibility that they have potential to increase blog traffic! Take a look at them and make any updates that seem necessary to bring them up to par with your newer content. I think you will be surprised at some of the traction they may start to gain.
4. I created some free downloads.
I put this one last because I'm not sure yet how much it has positively influenced my traffic, but I also created some free downloads to offer on my site over the past several weeks. My long-term goals for those downloads are that they will help me to build my email list for more consistent traffic sourcing, but they may have also helped my short-term numbers by drawing people into my posts. I compiled my first ebook on baby Sample Schedules & Sleep Tips that I offer free to subscribers and I also added a free printable checklist to my post Baby Registry "Must Have" & "Nice To Have" List. As I noted, I'm not sure how much these have influenced traffic over the past month but I just thought I would throw it out there since it is another major undertaking that I added to blog in that time period.
These are the strategies that have exponentially grown my traffic over the several months. I gained A LOT of knowledge from Carly's Pinteresting Strategies ebook, I paired that knowledge with my own practical limitations to work through Tailwind, and I updated and re-circulated many old blog posts.
If you're struggling to increase blog traffic I hope you find these strategies helpful. I will continue to update while I "learn as I go"!
Read more on My Blogging Journey: